MĚSTSKÝ DECHOVÝ ORCHESTR CHEB
HISTORY

The Youth wind orchestra of the music school of Jindrich Jindrich in Cheb was established in the year 1958 by the conductor Václav Kucera. First the orchestra had had only 12 members but then it spread to the group of 60 - 80 members. The main merit on it had the first conductor of the orchestra Václav Kucera. The level was growing and early there was first success. The orchestra took part in many actions in the town but there were also paid many tributes to it in competitions in the whole country.

In the year 1965 the orchestra took its first trip to a foreign country Many exhibitions abroad followed then and the height was taking part in the festival in Norway in the year 1967. And just these qualities of the orchestra were the biggest reason for the origin of the festival FIJO Cheb. Václav Kucera and Jindrich Pravecek where among those who gave rise to this festival.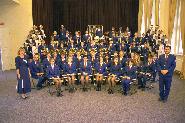 When I have to name all countries which the orchestra have visited till this time I can not forget Austria, Hungary, Germany, Denmark, Belgium, Holland, Sweden, France, Switzerland USSR, Canada, Malaysia, China, etc. The orchestra achieved very big success in festival in Dijon, where it acquired the second place in the cathegory of adults, then in the festival in Haag, where it won the first prize. It recorded for Autria's televison and wireless and for the state's wireless in Norway. In competitons of the wind orchestras in Czechoslovakia it acquired the first place many times.
In the year 1977 Mr. Kucera finished his activities in the orchestra and Mr. Novotný succeeded him. There were still very good results under his leading. Mr. Novotný finished his activity in the orchestra in the year 1989 and then after a 2-year-long pause when there was Mr. Eichler as the conductor, he came back and led the orchestra till 1994. In September 1994 the baton was undertaken by Mr. Smitek (graduate of the army conservatory and one of members of the orchestra in the past). Since the orchestra won a lot of competitions, the greatist was in 1999 three first place (concert, march and show contest), 2000 first place in show in Canada, in 2001 first place in Germany, in 2003 first place in Italy, silver sector in 2011 in Malaysia and gold sector in 2017 in USA. We are the only members of Czech of the World Asociation of Marching and Show Bands